Written by: Braxton Anthony
"How does it cost this much?" – A question that has repeated itself, over the last few years, to those who practice commercial real estate brokerage. Currently, the cost of a commercial upfit is one of the biggest obstacles in finalizing a lease transaction. In some instances, upfit costs have increased by 30 percent since 2014. A recent article published on GlobeSt.com reports that construction costs increased 6.2 percent last year alone. This presents a real challenge to tenants, especially when vacancy is historically low and rental rates are historically high. How can a tenant overcome this and still make a sound real estate decision for their business?
Labor Shortage and Building Materials
In January, The Associated General Contractors of America forecasted that contractors are raising construction prices this year due to tight labor market conditions and increases in the cost of building materials. They also reported that 79 percent of construction companies want to hire more employees in 2019, but the industry is only estimated to grow its workforce by only 0.5 percent annually for the next 10 years. These are national statistics. Many contractors are having difficulty finding and retaining skilled laborers. Some laborers might leave a job site for another if offered more money. There is also a shortage of experienced laborers, and the majority of these are middle-aged with retirement looming. America's strong emphasis on higher education has decreased the labor pool and studies show millennials are interested in other industries. In an effort to increase the workforce, many nationwide construction trade associations are working with universities and community colleges to recruit more people into the construction industry. Locally, the aftermath of Hurricane Florence relocated many skilled laborers from the Triangle to the coast. This shortage increased the cost of labor in the fourth quarter of 2018, thus resulting in higher upfit costs. A shortage of labor can also prolong the amount of time it takes to complete a project, and a longer project will usually cost more. Matt Cain, a Vice President at Brookwood Construction, states "the number one question we get from subcontractors today when we send projects out for pricing is, when does it start? If it starts in the next 30 days, I don't have the manpower to do it." The average upfit involves a general contractor and approximately 15 subcontractors. If each subcontractor is experiencing labor shortages, increases in pricing will be across the board. One could compare this to a domino effect.
Building materials have been affected by two tariffs, steel and, most recently, materials that are imported from China. Steel and aluminum are prevalent in many commercial upfits as these materials are used in framing, hardware, mechanical, electrical, plumbing, etc. Some are reporting that prices on materials from China may increase by 15 percent. Before speculation of trade wars with China, Triangle general contractors who specialize in upfits were forecasting costs in materials and labor to flatten out in 2019. Moving forward, it will be interesting to see how trade talks with China evolve and how this will affect local upfit costs.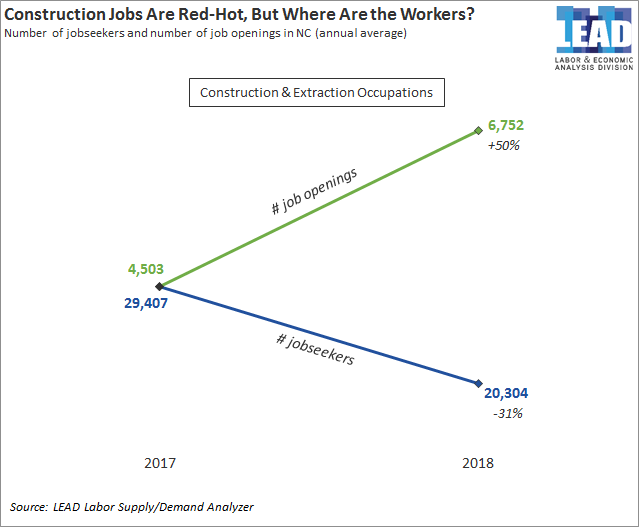 Time is a Tenant's Best Friend
The more time a general contractor has, the more they can provide an accurate price and suggest items to value engineer. Selecting a $20/yd carpet in lieu of a $28/yd carpet is an example of value engineering. Another example is removing private offices from the scope of work and designing an open area with workstations. In second generation spaces, a general contractor might suggest reusing some code-compliant items. These items can include ceiling grids, ceiling tiles, doors, hardware, millwork, light fixtures, etc. Also, if given more time, a general contractor can bid out major trades (mechanical, electrical and plumbing) and receive the most competitive pricing thus benefiting the tenant. RCR advises all clients, no matter the size, to start preliminary discussions about a relocation or renewal at least two years in advance of a lease expiration date. This may sound premature at first, however, considering today's market trends, time will help produce viable solutions and leverage needed in making the best decision possible.