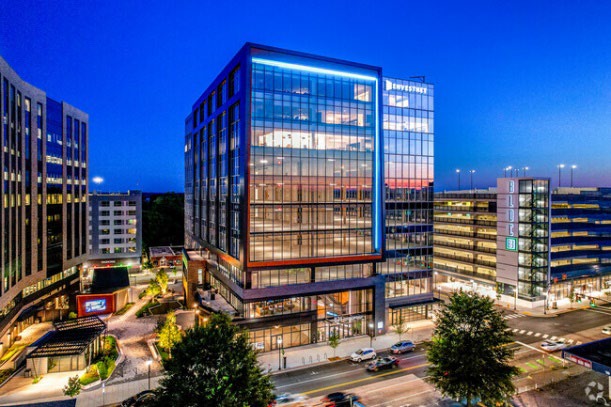 The pandemic was not necessarily friendly to Downtown Raleigh. Downtown Raleigh's storefront businesses and office spaces struggled throughout the pandemic. However, as we've returned to normalcy, we've seen areas of downtown Raleigh recover and thrive compared to competing cities. Downtown Raleigh has caught the eye of local & institutional investors and has a future development pipeline of more than $6.7 billion. Over the past 12 months the Downtown Raleigh submarket has delivered 293,000 SF with a positive net absorption of 176,000 SF. Many of these recently delivered and planned future developments are taking place in the Tweener District of Downtown Raleigh.
The Tweener District is the area located just between Glenwood South and the Warehouse District. Tower Two at Bloc83 and 301 Hillsborough at Raleigh Crossing are two of the recently delivered developments in the Tweener District.
Tower Two at Bloc83 was delivered in Q2 2021. It has 241,750 SF of office space, 30,000 SF of retail space, and stands 10-stories tall. Last year, City Office REIT of Canada purchased Tower Two (alongside One Glenwood) making it the largest real estate transaction in Downtown Raleigh's history. The building is ~76.7% leased with a remaining ~56,000 SF available to lease. The current asking rate is $41.50/SF. Trinity Partners represents City Office REIT as the primary leasing brokerage. The anchor tenant of Tower Two is Envestnet Incorporated, a financial technology company, and they occupy floors 7-10.
301 Hillsborough at Raleigh Crossing was delivered in Q4 2021 and is a recipient of the 2022 DRA Imprint Award. It has 287,250 SF of office space, 12,000 SF of retail space, and stands 19 stories tall. The Fallon Company and Barings, both based out of Boston, are the true owners of the building. The Fallon Company has developed over $4 billion in real estate and represents more than six million square feet of property. The building is ~63.5% leased with a remaining of ~106,000 SF available to lease. The current asking rate is $41.50/SF. CBRE of Raleigh represents The Fallon Company as the primary leasing brokerage. Pendo is the anchor tenant of Raleigh Crossing and they occupy floors 15-19. Recently announced tenants include the technology firm of Rapid Scale and the law firm of Nelson Mullins.
There is a handful of developments creating excitement in Raleigh right now. One of the most talked about developments is 400 Hillsborough Street, also known as 400H.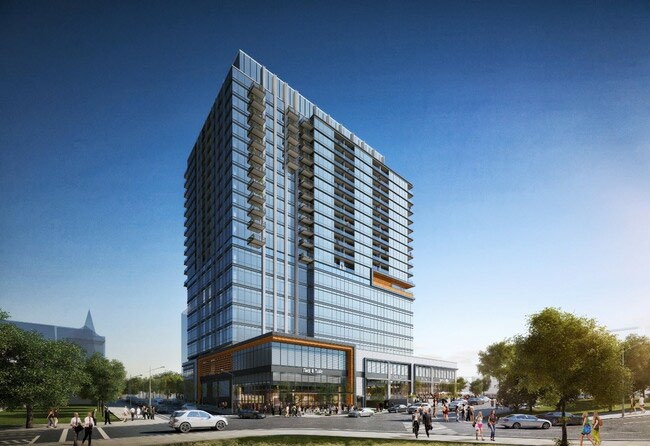 400H is scheduled to be delivered in Q4 of 2023. It is going to bring 144,410 SF of Class A office space, 242 residential units, and 16,925 SF of ground floor retail space to the Tweener District. Trammell Crow Company of Dallas, Texas is helping develop the new project along with local developer Gregg Sandreuter. 400H is going to stand 20 stories tall with 11 floors dedicated to luxury apartments, 5 floors dedicated to office, and the rest dedicated to retail and parking. The LEED certified building is going to feature a 'Skyhub' on the 9th floor with amenities such as a fitness center, yoga studio, and lockers rooms that will be shared by the office and residential tenants. JLL is the primary leasing brokerage for this exciting new development.
The Tweener District growth doesn't stop with 400H. There are developments currently being planned or proposed to help continue the growth. One of the most anticipated proposed projects is Tower Three at Bloc83. Tower Three is the third phase of the Bloc83 project and it is looking to stand 18 stories tall, making it the tallest of the group. The building will include 277,500 SF of office space and 7,500 of retail space.
As Downtown Raleigh continues to catapult back from the pandemic, we will continue to see more developments come to life. It's no secret that Raleigh is one of the fastest growing technology hubs in America. The triangle is home to three Tier-1 research universities which
continue to produce strong talent for employers to recruit from. The Tweener District serves an important role as it provides residential living and office space opportunity for new residents and new companies looking to move to Downtown Raleigh.