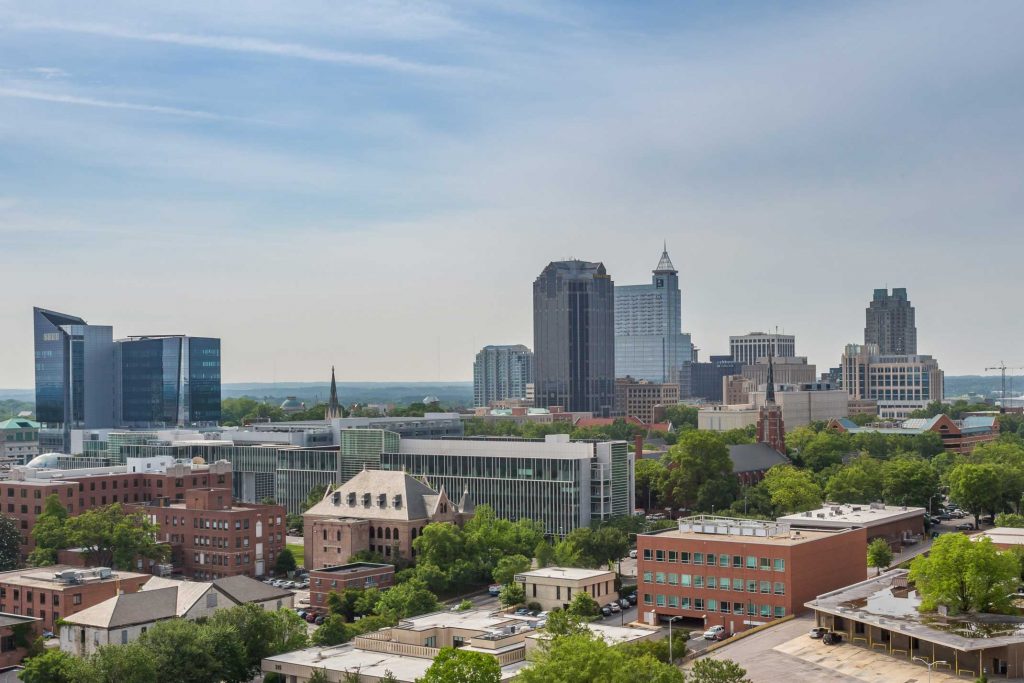 According to source after source, including our own eyes locally, Raleigh is among the nation's fastest growing and most popular cities.  Residents are seeing the exciting benefits of infrastructure investment (Transportation, Union Station, Roads, Utilities, Fiber, etc.), amenity investments (the momentous Dorthea Dix Park project), and increasing property values.  To many, all of those listed items are undesirable, but erroneous to any local resident wishes, the people and companies are coming.  The cost of living, the quality of life, the workforce, and our education system is attractive to workers and companies alike.
On the commercial real estate front, this has led to limited supply of space and high demand over a short period of time; so short that cautious developers have not been able to keep up with the boom, and space cannot be delivered quickly enough.  According to CoStar's Brett Evans, his article Office Rents in Raleigh Currently Among Nation's Fastest Growing, notes that "in the past 12 months, national office rents have increased by roughly 1.7% in metropolitan areas across the country. But in Raleigh, NC, they have grown at more than triple that rate, climbing more than 6% throughout the past year."
Most leases have a 2.5-3% annual escalation built in, which means the market rates are substantially outpacing tenant's leases.  As a lease expires, most will see a fairly dramatic negotiation tilted in the landlord's favor.  Many of our clients who signed long term leases in the recession have seen 20-35% increases in rent at renewal time.  Here are some ways companies can try to ease the pain:
Know your lease.  Tenant's should be extremely familiar with their lease language regarding trigger dates, notifications, and renewal rights.  Some leases in the recession contain renewal rights with pre-determined rental rates.  In today's market conditions, these predetermined rates could be staggeringly below the market.  It is important to be aware of the lease language, as missing out on something like this could cost a huge amount of money.
Plan, and plan early.  The days of blending and extending are long gone, and most landlords have no interest in early renewals or most anything that could benefit a tenant.  That said, planning has never been more important.  With a lack of available space, it is important to understand your lease, market conditions, and create a strategy well before your lease expiration.  We generally advise that conversations should, at a minimum, begin 24 months prior to lease expiration.  In many cases, it could and should start as early as 36 months out.  New construction is estimated at 18-24 months for delivery, which means if you start the conversation 12 months out in a market with under 5% vacancy, your leverage is extremely limited.  For larger tenants, this is even more profound.  Timing is everything, and leverage is difficult to create in a landlord's market.
Operating Expense Reconciliation Report. With a rising tide, generally operating expenses also increase at an above normal pace.  Vendors are charging more, taxes are increasing, insurance rates have increased, etc.  As such, it is very important to review your OpEx lease language, and understand your caps, audit rights, and carve outs, and compare to your reconciliation reports.  Generally, you should discuss this with your Tenant Representation broker or accounting team.
Plan for growth. If your company is hiring, it is more important than ever to plan for any anticipated growth.  Be aware of your expansion rights within your lease.  We have seen countless landlords ignore expansion rights.  We have also seen subleases become leases within a matter of days.  If you are looking to expand in your building that is 100% occupied, a sublease may be the best and only way.  Being constantly aware of opportunities and planning for expansion is key to avoid missing out on space in a fast-paced market.
Hire a Tenant Representation broker. It is important to hire a broker that is exclusively working with tenants and understands the issues the current market is posing to tenants.  Each of the above issues can potentially be mitigated through planning, information, and good advice.  Trying to navigate the waters of a challenging, pro-landlord market without proper representation will leave significant money on the table.