Over the years, Rich Commercial has had clients (office and industrial alike) that had the misfortune of having their space flood. Freezing pipes, broken sprinkler heads, sewer backups—you can never predict these issues, but you can prepare. Unfortunately, our advice not only comes from what our clients have experienced, but also from our own experience this past December.
On Monday December 4th, we opened our office to find standing water everywhere. A small water line that feeds the refrigerator in our break room had burst and water was flowing out with tremendous pressure. This is smallest water line that exists in our office, yet its pressure blew through two sheets of sheet rock and managed to fill our office like it was a bathtub.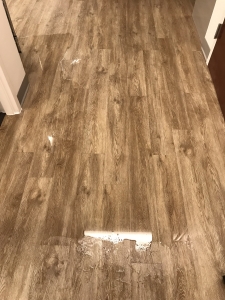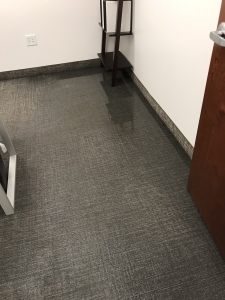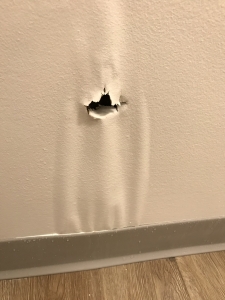 We had moved into our space only eleven months prior and most of the plumbing, including the refrigerator line that burst, were new with the upfit of our office. This certainly proves that accidents can happen at any time and it is important to be prepared. Some thoughtful but simple preparation will save you time, money and a lot of headaches should this ever happen to you—trust us, we know!
Know where the water shut off valve is for your space/building and make sure you have access to it. For example, our shut off was above the ceiling grid and needed a ladder to access. If the building is a multi-tenant building, the shut off may be in a mechanical closet on your floor.
Be cautious of walking in the water. If you have a sewer or drain back up this obvious, however even water from a freshwater burst gets easily contaminated. There can also be shock hazards from electrical office equipment or industrial machinery.
If you lease space, have your property managers information and emergency number readily available and somewhere where all employees can access, not just office managers or principals. Floods can happen at any time no matter who is working. In some scenarios the water may only be able to be turned off by property management so making sure that you have all of their information in the event of an emergency is very important.
Have several vetted water damage restoration companies information on hand. Do your homework before you have an emergency! Understand response times, scope of services, and the company's abilities. If you are a large office or large industrial user, make sure you find companies that can handle the larger jobs. It's a good idea to have a couple of options on hand in case one company is unable to respond to your emergency you can move down your list to the next.
Take pictures and photograph as much as you can as quickly as you can. Once the source of the leak is stopped, water will recede. It may take hours or even days before your insurance adjuster can get on scene so be sure to document as best you can. Your insurance is likely to ask that you share your photos.
Make sure your insurance and important documents are protected and accessible. The filing cabinet that contains your insurance documents can get ruined in your office. Having a copy stored off site or digitally accessible will help ensure there is no delay in engaging your provider.
The insurance company may conduct an investigation so do not disturb the area directly surrounding the source of the leak until given the okay.
Go with the flow (pun intended)! It is a major disruption to your business and can be a long and tedious process. Do the best you can and lean on your co-workers, neighbors, friends, and family for support.
Of course you can always lean on Rich Commercial Realty for our advice and support because we certainly feel the pain of those who experience this disaster!